Books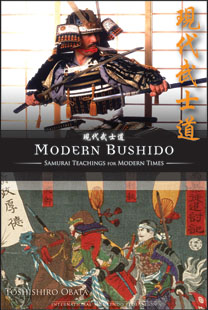 Modern Bushido:
Samurai Teachings For Modern Times

Renowned not only for their military prowess and skill with the sword but also as leaders, artists, intellectuals, writers, and philosophers, the samurai reigned over Japan for the better part of a thousand years, and their legacy survives in various forms today, not the least of which is bushidō, the Way of the Samurai. In Modern Bushidō, renowned swordsman and author Obata Toshishiro revives and renews the teachings of the samurai, exploring their modern relevance and crystallizing them within his own lifelong experience studying the Japanese warrior arts. By studying this ancient approach to living, we can discover truths and insights that are no less valuable today than they were centuries ago, and can come to understand how the way the samurai lived their lives can enrich and elevate our own.

Available in paperback and hardcover. 232 pages.
ISBN 0–9668677–6–9 (paper); ISBN 0–9668677–7-7 (cloth)
1.45 lbs.; 6" x 9"
Press Release (PDF)

View Inside the Book
---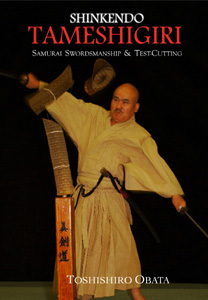 Shinkendo Tameshigiri:
Samurai Swordsmanship & Test-Cutting

The second book on shinkendo written by its founder and headmaster, Shinkendo Tameshigiri focuses exclusively on tameshigiri (test-cutting) — its history, its current practice, the different types and purposes of tameshigiri, including shito or sword-testing — and its role in shinkendo. Obata-soke has been instrumental in implementing and raising the standards of the practice of tameshigiri in swordmanship training worldwide, starting from his participation in the tameshigiri championships in Japan and perhaps culminating in the publication of this definitive volume. Included are detailed diagrams of cutting techniques and sword anatomy, step-by-step photos of maintaining swords, preparing tatami-omote, tameshigiri waza, and more. This book also extends beyond the scope of shinkendo to incorporate Obata-soke's extensive experience as a shitoka, or professional sword-tester. Intended as a resource for students and anyone interested in finding out more about shinkendo and the practice of tameshigiri.

Available in paperback and hardcover. 180 pages.
ISBN-13: 978-0966867756
1.45 lbs.; 7" x 10"
Press Release (PDF)
View Inside the Book
---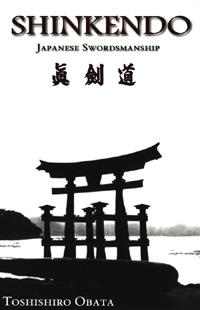 Shinkendo: Japanese Swordsmanship

Intended as a resource for current students as well as an introduction for non-students, Shinkendo: Japanese Swordsmanship is the first volume of several books scheduled to follow that detail various aspects of this art. A must for shinkendo students and anyone interested in Japanese swordsmanship, volume one touches on Japanese military history, shinkendo strategy, philosophy, and all five major areas of swordsmanship study. This is the first book on the dynamic art of shinkendo, written by its founder and headmaster.

Available in paperback. 177 pages.
ISBN-13: 978-0966867701
1.45 lbs.; 7" x 10"
View Inside the Book
Out-Of-Print Books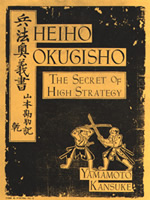 Heiho Okugisho — The Secret of High Strategy
Translated into English for the first time by Obata Toshishiro, this book features the original Japanese text on one page and the English translation juxtaposed. Yamamoto Kansuke, recorded as a strategist for the famous general Takeda Shingen, is said to have originally compiled this work. Reviews have strongly favored the accuracy of this translation. Historically an important and significant work of Japanese strategy.
New Edition Coming Soon!
---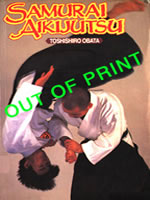 Samurai Aikijutsu
This book includes unarmed older aikijutsu technique (battlefield methods) and taihojutsu (arresting techniques). Also includes a historical overview and details some of the combat-effective weapons, techniques and methods once relied upon by bushi. Like the video, this has been a very popular book in the past.
---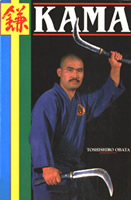 Kama
This book covers kama techniques of Ryukyu Kobudo, and includes: the history of the kama, attacking techniques (kogeki), blocking techniques (bogyo), training exercises (tozan no kama), kumite (kama vs. bo, 1-9), and techniques that include sai, tonfa, bo and nunchaku. While focusing on kama, other Okinawan weapons are introduced as well. Kama is considered by most kobudo exponents to be the most effective Okinawan weapon, and this book features several different applications — including test-cutting on bamboo!
---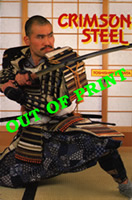 Crimson Steel
Outlines techniques from Toyama ryu battodo, Nakamura ryu battodo and other battodo kata. This book was designed to be used in conjunction with the video "Crimson Steel." Content includes: the history and development of swordsmanship, ichimonji suburi, goho battoho kata, battoho kata — jokyu, shoden no kata, nidan no kata (chuden sei), tameshigiri (text and photos), and sword-cleaning method.
---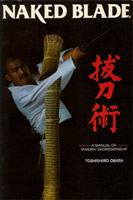 Naked Blade
Various parts of the curriculum of battodo are covered in this "Manual of Samurai Swordsmanship," including: the history of Toyama ryu battojutsu, Nihonto facts, the method of wearing the sword, bowing, proper grip, kamae positions, kiri-kata (cutting techniques), battojutsu (drawing and cutting techniques), happo giri, Toyama ryu kata, and tameshigiri (text and photos). This popular book (first published in 1986) recently fetched $92.00 (unsigned) at an internet online auction!