ISF / AB Member Products
Kakejiku (wall hangings) of the kanji for Shinkendo are now available. The green version has a matte finish, while the orange version has a glossy finish. (60" x 15")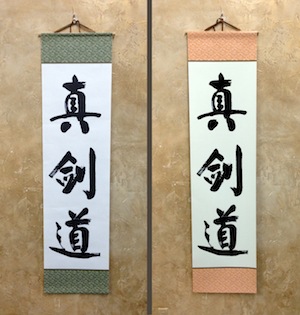 Anzentō (literally, "safety sword") are training swords that are used to reduce the risk of injury during tachiuchi practice. They consist of resilient padding wrapped in leather, with a sturdy but flexible core. Each is handmade.
To extend their longevity, it is recommended that anzentō are used in pairs during practice.
PRICE=$80.00
---
MACHIGI roughly translates as "town-coat," and is a sleeveless jacket that can be worn over one's dogi on the way to or from the dojo, as well as other occasions. Available in leather and denim. Please contact orders@shinkendo.com for prices.
Denim Kuyomon

(M, inquire for L)


Denim Aikibuken kanji
(M, inquire for L)

Denim Shinkendo kanji

(M, inquire for L)

Leather Shinkendo kanji

(S,M,L)
SIZES (length x shoulder width)
Leather: S=34"x13"; M=34"x13.5"; L=37"x14.5"
Denim Aikibuken: M=31"
Denim Shinkendo/Kuyomon: M=30"
---
TENUGUI are traditional Japanese hand towels, and can be used for a variety of purposes. They are usually kept in the folds of the dogi or hakama. Available in a set of two (one blue and one white) with the Shinkendo or Aikibujutsu kanji written on them.
PRICE=$15.00 (set of two)
SIZE: 14"x41"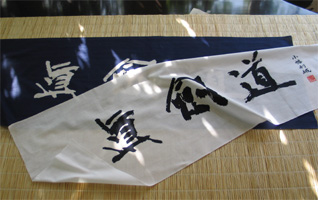 White Shinkendo tenugui temporarily out of stock.
Single blue Shinkendo tenugui available for $10.
Pair of blue and white Aikibujutsu tenugui available for $15.
---
The Shinkendo TSUBA are made of sturdy leather, and are meant to be mounted on a bokken for tachiuchi practice. It may require some adjustment to fit different diameters of bokken.
PRICE=$20.00
| | |
| --- | --- |
| Omote Side | Ura Side |
Sorry, temporarily out of stock
---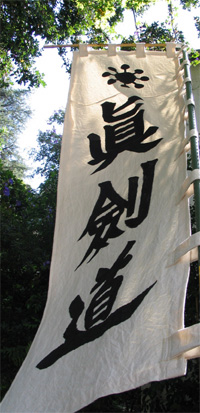 Nobori flags are available for display in the dojo or during demonstrations.
They come as a pair of matching flags (left and right) inscribed with Aikibuken or Shinkendo kanji.
PRICE=$70.00 pair (Shinkendo set or Aikido set)
Stand not included
---