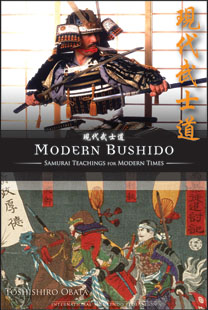 — N E W R E L E A S E —

Modern Bushido by Toshishiro Obata
In this new work, renowned martial artist Toshishiro Obata sets forth a thorough system of philosophy culled from the traditions of thought that shaped Japanese warrior culture for a millenium. His treatise explores the teachings of the bushi and the samurai way of life, and in doing so illumines their enduring relevance and undiminished value even within (or especially within) the context of modern living.
Modern Bushido
serves as a touchstone for the various diverse ways of living in contemporary society, as well as a source of guidance and inspiration to readers of all disciplines and backgrounds.
Available in paperback and hardcover. 232 pages.
Press Release (PDF)
---
Welcome to the International Shinkendo Federation Home Page. We are an organization dedicated to teaching authentic Japanese swordsmanship, under the guidance and leadership of Obata Toshishiro.

The Honbu Dojo (World Headquarters) is located at 320 E. 2nd St. in the Little Tokyo district of Los Angeles, California, USA, with authorized branches around the world.
On this page you will find information about Shinkendo Japanese swordsmanship, and about its founder and headmaster, Obata Toshishiro. There is also a listing of officially-licensed dojo around the world where you may study with us, as well as information about the Aikido and Toyama Ryu Iaido classes led by Obata-kaiso.
Prospective students interested in studying or receiving private instruction in Japanese swordsmanship, Aikido, and/or other Japanese martial arts in the Los Angeles area can make an appointment to visit the Shinkendo Honbu Dojo in Little Tokyo.
© International Shinkendo Federation